Introduction to Dobesh Appraisal
If you need an appraisal of antique firearms, Portland appraiser Jerry L. Dobesh, ASA, of Dobesh Appraisal, can help.  Jerry has been active in the antiques business, full time, for over 40 years.  Jerry performs appraisals of antique furniture, fine and decorative artworks, silver, porcelains, glass, firearms, military souvenirs, and a wide range of personal property.  Last year, our American Society of Appraisers conference was in New York City, and I was able see this revolver on display at the Met during my visit.  While I'm sure this isn't what most visitors specifically come to see, it was of great interest to me.
Colt Single Action Army Revolver at the Metropolitan Museum of Art in New York
The Metropolitan Museum of Art has a number of revolvers on display in their Fifth Avenue Gallery.  Included in these are ornately engraved pieces by Smith & Wesson with gold inlay and jewel encrusted grips, and a fantastically ornate engraved and gold inlaid Colt Model 1862 Police Revolver from 1868, with an ornate brass grip.  The grip on the 1862 Police Revolver was designed by John Quincy Adams Ward, with Liberty and Justice depicted as women in high relief, and an eagle at the butt.  They believe that this revolver was presented to the Sultan Abdülmecid of Turkey by Samuel Colt while on a trip to Europe in 1854.  This was exactly the sort of revolver I expected to find in the Met, and it was most impressive.
However, More interesting to me, personally, was this plain and functional Colt Single Action Army Revolver, which was manufactured in 1874.  Part of what was especially interesting to me was the 7 1/2″ barrel length, and the "U.S." stamp on the side of the frame.  The U.S. marking indicates that it was issued by the Army as a service revolver.  This specific model of revolver, with 7 1/2″ barrel, was issued to U.S. Cavalry troops serving on the American frontier.  While it was not mentioned in the display, the year of manufacture, and the serial number 4519, place it within the relatively narrow range of revolvers which may have been issued to Custer's 7th Cavalry, and if so may have been present at the Battle of the Little Bighorn in Montana.  The history of this particular piece was not explained, and I was left to wonder if it may have been present that day.
When firearms that are documented to have been present at the Little Big Horn battle have come up for sale, interest from collectors is very strong.  The documented use during this historic event can mean a 40 or 50 fold increase in value over what a similar piece without such history might see.
Colt Single Action Army Revolver at the Metropolitan Museum of Art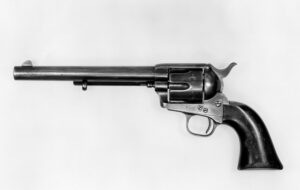 The Metropolitan Museum of Art in NewYork City, has this revolver on display. If you get to New York City, it's definitely not as colorful or ornate as the paintings, sculptures, antiques and fantastic Tiffany works on display at the Met, but it is an interesting artifact from the American frontier.
Looking for an Appraisal?
Contact Jerry for a quote, or call.
Appraising is his only business.  He is not a dealer, and he does not buy or sell.  With Dobesh Appraisal, you will receive professional objectivity without any conflict of interest.  His sole interest is to provide you with an accurate, well supported, and unbiased appraisal.  Jerry's reports are USPAP compliant, and meet the 2020 IRS Qualified Appraiser/Qualified Appraisal requirements.
Most of Jerry's appraisal work takes place here in the Portland – Vancouver metro area, including all the surrounding cities such as Salem, Sandy, Gresham, Tigard, Beaverton, Hillsboro, and Battle Ground, Washington. Jerry is willing to travel as necessary, including La Grande, Baker, Ontario, and every year in Boise and other parts of Idaho.  If you need a valuation of antiques, fine art, or  firearms in the Pacific Northwest, give Jerry a call.  He is happy to travel.
Check Out Jerry's Oregon Live Articles
Jerry writes a monthly column for the Oregonian Home & Garden section. Click to read past Oregonian appraisal columns